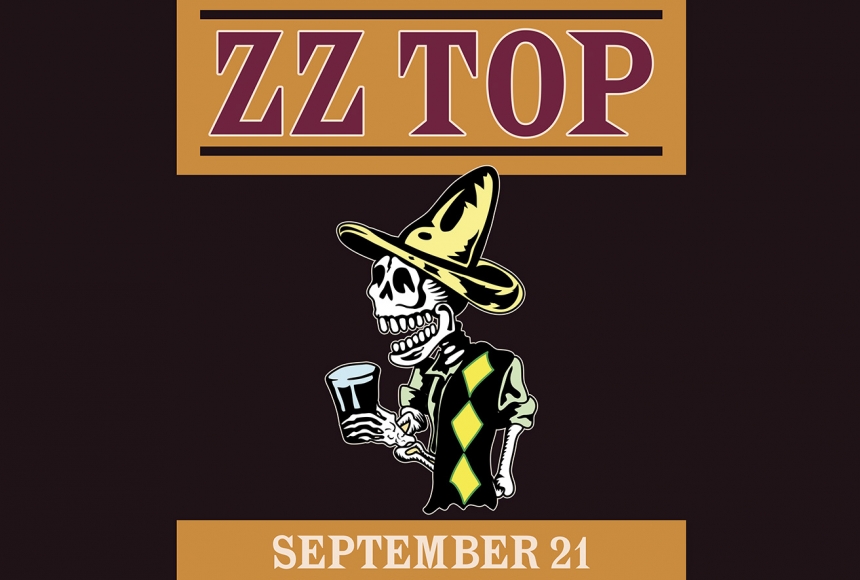 Be a Member, Be here.
Become a Member to enjoy ticket discounts, presale access, Member-Only events & more!
ON SALE THIS WEEK.
Fan Club - 7/19 @ 10am, CDT
Venue/Members - 7/21 @ 10am, CDT
Public - 7/22 @ 10am, CDT
ZZ TOP RETURNS TO MAD
The Murphy Arts District has announced that Rock and Roll Hall of Famers ZZ Top will play the MAD Amphitheater on Wednesday, September 21, 2022. Public sale will begin Friday, July 22nd at 10am, CDT. The concert will begin at 7:30pm with gates opening at 6:00pm. 
Seating is available in the lower and upper sections of the venue and include a full-sized chair. A new seated area called "Pit Tables" has been created for this show. The section will be located directly in front of the stage (formally the pit area) and will include one seat at a table with private bar service per ticket. General admission lawn tickets will be available for purchase as well. Lawn ticket holders may bring a blanket or short beach chair no higher than 9" off the ground. 
"It's been nearly five years since ZZ Top played the MAD Amphitheater and we are excited to welcome them back to El Dorado! We had a blast watching them during our grand opening and hope that many of those attendees will return for another night of fantastic music," said Pam Griffin, MAD President and CEO.  
It was in Houston in the waning days of 1969 that ZZ TOP coalesced from the core of two rival bands, Billy's Moving Sidewalks and Frank and Dusty's American Blues. The new group went on to record the appropriately titled ZZ Top's First Album and Rio Grande Mud that reflected their strong blues roots.  Their third, 1973's Tres Hombres, catapulted them to national attention with the hit "La Grange," still one of the band's signature pieces today. The song is unabashed elemental boogie, celebrating the institution that came to be known as "the best little whorehouse in Texas."  Their next hit was "Tush," a song about, well, let's just say the pursuit of "the good life" that was featured on their Fandango! album, released in 1975. The band's momentum and success built during its first decade, culminating in the legendary "World Wide Texas Tour," a production that included a longhorn steer, a buffalo, buzzards, rattlesnakes and a Texas-shaped stage. As a touring unit, they've been without peer over the years, having performed before millions of fans through North America on numerous epochal tours as well as overseas where they've enthralled audiences from Slovenia to Argentina, from Australia to Sweden, from Russia to Japan and most points in between. Their iconography – beards, cars, girls and that magic keychain – seems to transcend all bounds of geography and language.
ZZ TOP's music is always instantly recognizable, eminently powerful, profoundly soulful and 100% Texas American in derivation. The band's support for the blues is unwavering both as interpreters of the music and preservers of its legacy.  It was ZZ TOP that celebrated "founding father" Muddy Waters by turning a piece of scrap timber than had fallen from his sharecropper's shack into a beautiful guitar, dubbed the "Muddywood." This totem was sent on tour as a fundraising focus for The Delta Blues Museum in Clarksdale, Mississippi, site of Robert Johnson's famed "Crossroads" encounter with the devil.  ZZ TOP's support and link to the blues remains as rock solid as the music they continue to play. They have sold millions of records over the course of their career, have been officially designated as Heroes of The State of Texas, have been referenced in countless cartoons and sitcoms and are true rock icons but, against all odds, they're really just doing what they've always done. They're real and they're surreal and they're ZZ TOP.
Tickets for the event will be available for purchase at eldomad.com or by calling the box office at 870-444-3007. Tickets may also be purchased at the box office (101 East Locust Street), Monday – Friday, 9AM – 5PM.  
Ticket Pricing: 
| | |
| --- | --- |
| Section  | Advance  |
| Pit Tables (GA/pit area) | $242.00 |
| Golden Circle (1st 3 rows/reserved)  | $142.00 |
| Lower Seated (reserved)  | $92.00 |
| Upper Seated (reserved)  | $72.00  |
| Upper Seated (GA)  | $52.00  |
| Lawn (GA)  | $32.00  |
| Premium Ticket Packages available | $342.00 - $242.00 |
*Applicable fees and sales tax will be added at checkout. 
Premium Ticket Package options are listed below. 
ZZ Top Front Row Premium Ticket Package – $342.00
Package includes
(1) Front row ticket

Limited edition ZZ Top concert poster 

A copy of ZZ Top's "RAW" Standard Edition LP 
ZZ Top Gold Premium Ticket Package –  $317.00
Package includes
(1) Second Row ticket

Limited edition ZZ Top concert poster 

A copy of ZZ Top's "RAW" Standard Edition LP 
ZZ Top Silver Premium Ticket Package – $242.00
Package includes 
(1) Ticket located in the first 15 rows of the venue

A copy of ZZ Top's "RAW" Standard Edition LP 
About the Venue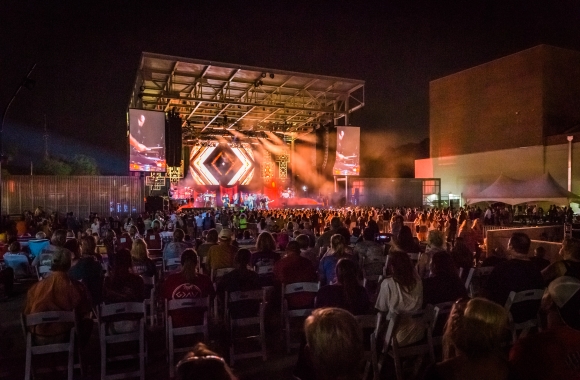 105 East Locust Street El Dorado, Arkansas
| 870-444-3007
The outdoor Murphy Arts District Amphitheater will play host to outdoor films, concerts, music festivals, and a seasonal farmers market in El Dorado, Arkansas. The spacious lawn is open daily and can be used for multiple activities including family picnics or basking in the sun with your favorite book. The Amphitheater will be a unique venue in El Dorado that everyone has access to and will be an ideal location for festival events.  Learn More