First Financial Music Hall
The First Financial Music Hall hosts a variety of performances throughout the year. With the support of First Financial Bank, Murphy Arts District has offered stage performances of Shakespeare, Shanghai Acrobats, and Second City, as well as dozens of concerts including Steve Earle, the Beach Boys, Ludacris, Casting Crowns, Train, and more. With room for up to 2,500 people we can also host weddings, banquets, and more. It is a tobacco free facility. 
Located in El Dorado, Arkansas, a community with a rich history and reputation for eclectic cultural programming, MAD will contain 6 venues spread over 3 city blocks. The venues will consist of a 2-acre contemporary children's Playscape, an 7,500 person outside amphitheater, a 2,000-seat music hall with a Broadway production capable-backstage, a 250 person cabaret/restaurant, an 8,000 square foot art gallery, a renovated 1920's-era 850 seat theater with balcony and bar, along with two outside plazas. The Playscape, free to the public, is one of the largest play areas for children in the state. There is also a 14-bay Farmer's Market adjacent to the amphitheater operated twice a week in the growing seasons.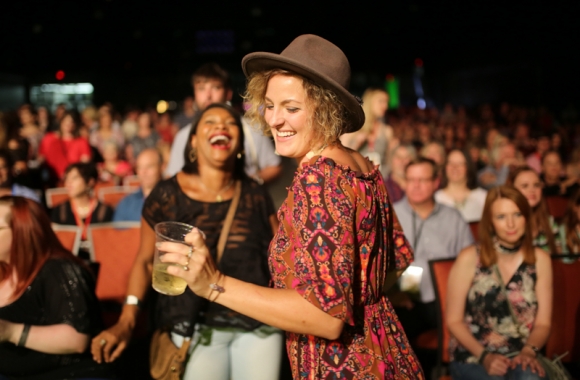 First Financial Music Hall FAQ's.
1. Events at the Murphy Arts District are held rain or shine unless otherwise noted.
2. Tickets are non-refundable.
3. Valid ID's are required and will be checked for all alcohol purchases regardless of age.
4. No food or beverages from sources outside of the Murphy Arts District are allowed. (Not including food trucks).
5. The Murphy Arts District has designated tobacco smoking areas. There is no smoking, e-cigarettes, or other combustible organic materials use anywhere else in the facility. Violation of the policy will result in removal from the facility.
6. The Murphy Arts District is in compliance with all applicable provisions of the Americans with Disabilities Act.
7. The carrying of weapons and/or firearms is prohibited at the Murphy Arts District under Arkansas Code 5-73-306 (B) (1) even if you have a permit.
8. Small non-professional personal cameras are allowed in the venue. Flash photography, video and removable lens cameras ARE NOT PERMITTED WITHOUT VENUE APPROVAL. Cameras must fit in pocket, small clutch bag. The use of video recording is strictly prohibited (This includes the use of GoPro cameras).
9. For the safety of guests, concert-goers and their possessions are subject to search as a condition of admittance. The Murphy Arts District reserves the right to refuse admission to any person not in compliance with all posted policies or the explicit direction of venue staff.
10. Patrons should have their bags available for inspection upon entering the venues. 
11. Re-entry is prohibited.
Event information varies per show. Please visit www.eldomad.com for the latest information or call 870-444-3007.