MAD on Ice Returns
for the Holidays Presented by Murphy USA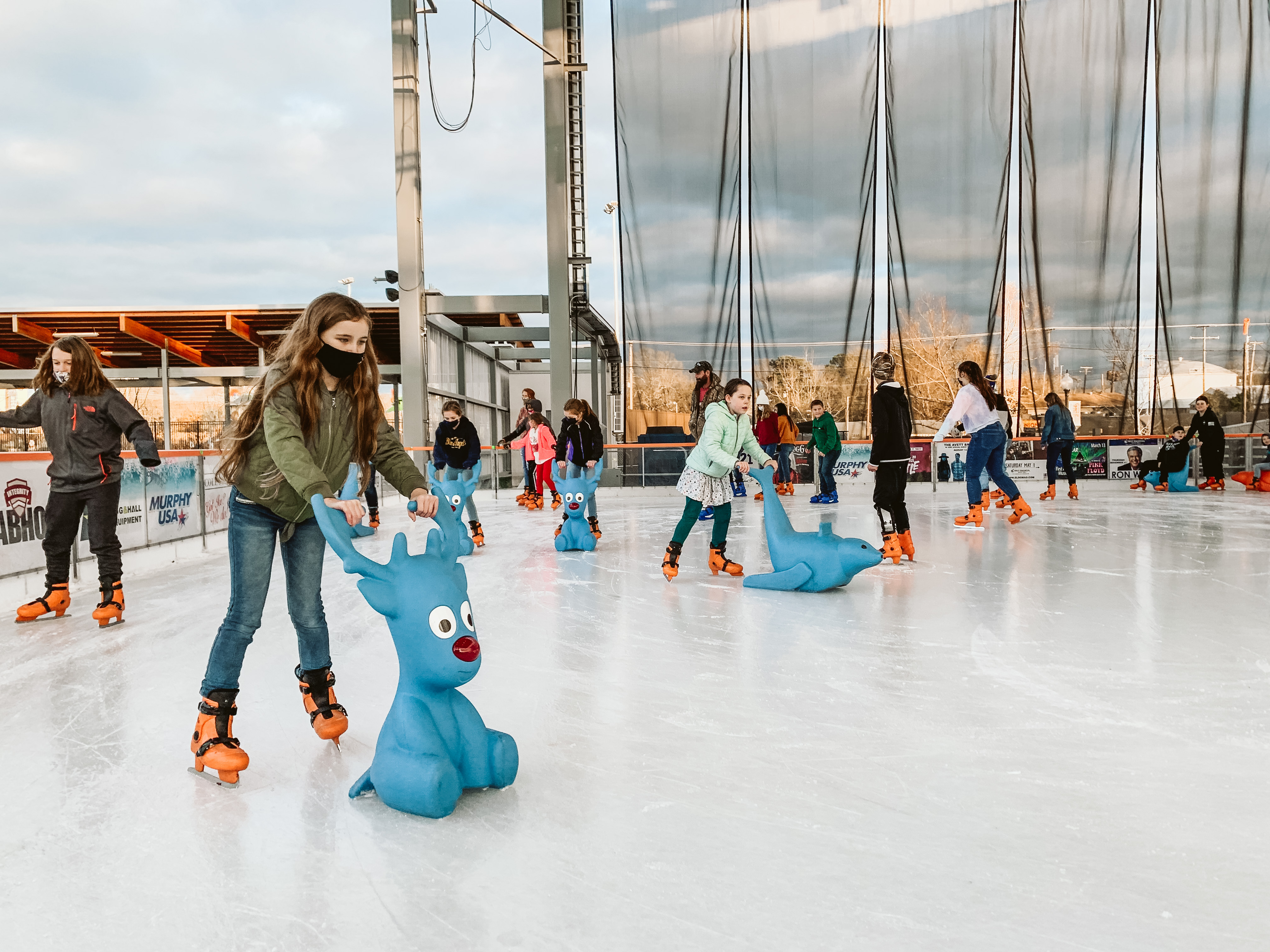 EL DORADO, AR. (October 18, 2021) Murphy Arts District has announced that MAD on Ice will return for a third year beginning November 20th, 2021 and run through January 2nd, 2022. Visitors will once again be able to skate on real ice atop the outdoor amphitheater stage this holiday season. MAD on Ice is presented by Murphy USA with additional funding from the El Dorado A&P Commission. 
"We are expecting a good turn out this year and are encouraged to see that more people are traveling once again. Although wearing masks will be optional this year, our staff will continue to regularly clean all contact surfaces and provide hand sanitizer stations. The rink capacity will be limited to allow for only 65 people at a time," noted Joanna Benson, MAD Marketing Coordinator.
Tickets cost $13 per person, tax included, for unlimited skating per day. Skate rentals cost $3, tax included, per person and are available in children's size 8 to men's size 16. MAD members can enjoy free skate rental from 1PM – 3PM by presenting their member card during normal operational hours. Concessions, such as hot chocolate, will be available from MuleKick@MAD. 
There are two types of skating aids or 'helpers' - Bobby the Seal and Tommy the Reindeer, which will help both adults and children enjoy the ice. Each are available for rent at $5, tax included, for a 90-minute cycle (as defined by the period in between ice cleaning with the re-surfacer). Helmets will be available for free on a first come, first served basis. A skating waiver form must be filled out for each person skating or watching from the stage. Waivers can be filled out in advance online or in person.
Season passes will be available providing unlimited skating time plus skate rental. The cost is $80, tax included, for an individual or $140, tax included, for two people. There will also be a pay-as-you-go skating punch card, offering "skate nine times and the tenth is free."
The ice rink will be available for a limited amount of hosted special events or rental buyouts. Please contact kelsiem@eldofest.com or 870-444-3007 for "Rent the Rink" options. 
"The El Dorado A&P Commission and Murphy USA have been the biggest cheerleaders of MAD on Ice and we'd like to thank them for allowing us to continue this annual tradition. We hope that people will bring their families out for this one-of-a-kind experience in South Arkansas and plan to spend a whole day creating memories in El Dorado," said Pam Griffin, MAD President & CEO. 
For more information about MAD on Ice, including operational hours, visit: www.eldomad.com/madonice.
###
Contact:
Joanna Benson
Marketing Coordinator, Murphy Arts District
870-918-9488 | joanna@eldofest.com