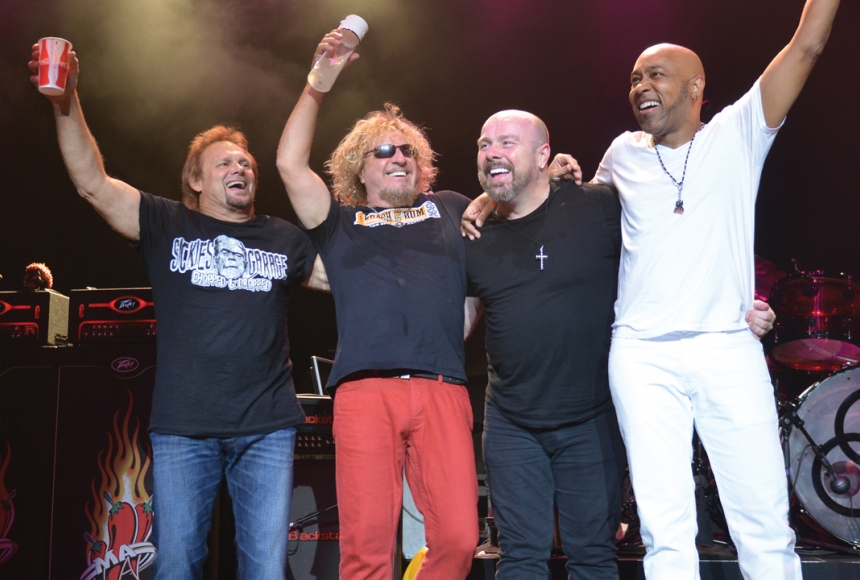 Be a Member, Be here.
Become a Member to enjoy ticket discounts, presale access, Member-Only events & more!
Sammy Hagar & the Circle
Led by SAMMY HAGAR, the Rock & Roll Hall of Fame vocalist, guitarist and songwriter, THE CIRCLE features MICHAEL ANTHONY, the renowned bassist who's played with him for the past 30 years in bands including Van Halen and Chickenfoot; JASON BONHAM, the acclaimed journeyman drummer and son of Led Zeppelin's iconic drummer, John Bonham; and VIC JOHNSON, Hagar's longtime guitar virtuoso who seamlessly shreds through his own, as well as some of rock's most iconic guitarists' riffs. Formed in 2014, the critically-acclaimed supergroup takes fans on a musical journey through rock history, with a set list spanning four decades of Hagar's hits from MONTROSE, his solo career, VAN HALEN and beyond — and with Bonham on board, they also tear into a few LED ZEPPELIN classics — thrilling audiences and critics alike with their live concerts.
From the first thunderous note, it's apparent that this machine is firing on all cylinders. The foursome rip through a set list of 40 years of Hagar's epic rock anthems … as well as some classic Led Zeppelin jams.
USA Today
Ticket prices
GA PIT = General admission located closest to the stage.
GA = General admission located behind the pit area. 
3 Day Package
(Includes AMP shows only: Sheila E, Morris Day & the Time, George Clinton, Lita Ford, Bret Michaels, Sammy Hagar & the Circle, Jimmie Allen, Carly Pearce, Justin Moore and Toby Keith.)
| | | |
| --- | --- | --- |
| Early Bird Pricing until Aug. 7 | August 8 - October 17 | Day of Show |
| GA PIT - $160 | GA PIT - $190 | GA PIT - $220 |
| GA - $100 | GA - $130 | GA - $160 |
Single Day Tickets for AMP shows only
| | | |
| --- | --- | --- |
| Early Bird Pricing until Aug. 7 | August 8 - October 17 | Day of Show |
| GA PIT - $60 | GA PIT - 70 | GA PIT - 80 |
| GA - $40 | GA - 50 | GA - $65 |
 Bret Michaels
Bret Michaels is a multiplatinum global superstar who has turned his passion for music into a multi-faceted brand that encompasses record breaking touring sales, Reality TV stardom, legendary songs that have sold over 32 million records, product endorsements as well as being a devoted philanthropist, all supported and followed by three generations of loyal fans. Bret was born in the small town of Butler, Pennsylvania on March 15, 1963. Rising to fame as the front man of Poison, one of rock's most iconic and enduring bands, he helped define the rock-n-roll scene on the Sunset Strip. Their massive success includes selling over 30 million records worldwide and numerous hit singles. Equally as successful, Bret's solo career has charted its own course with multiple solo albums. His last album, Custom Built, topped the charts, reaching #1 on Billboard's Hard Rock list. His new CD Bret Michaels: Jammin wtih Friends was released in June of this year and features a myriad of legendary artists, who just happen to be great friends of Bret's. The album contributors is a who's who list including Joe Perry (Aerosmith), Loretta Lynn, Jimmy Buffett, Ace Frehley (Kiss), Michael Anthony (Van Halen) and members of Lynyrd Skynyrd, to name a few.
 Lita Ford
A British born rocker who grew up on the streets of L.A., Lita Ford is considered one of the most important female representatives of the rock genre. Being a founding member of the Runaways, one of the first girl groups who unexpectedly broke down barriers in the punk era as well as the male-dominated world of rock music, causing a stir with their six rebellious releases.
Following the demise of the Runaways, LITA FORD concentrated on her own career and now looks back on many memorable hits including: the chart topping duet with Ozzy Osbourne ́Close Your Eyes Forever`, ́What Do You Know About Love`, ́Shot Of Poison`, ́Larger Than Life` and ́Kiss Me Deadly. With the release of Living Like a Runaway, expect many more songs to be added to the list of hits.
 Host - Eddie Trunk
Eddie Trunk is a 30 year music industry veteran who has built a reputation for being one of the most respected personalities in the world of Hard Rock and Heavy Metal. Eddie has spent time as a record executive and has also worked in artist management, but has really found his calling as a broadcaster.
Eddie began his broadcasting career in 1983, after convincing the execs at his favorite local radio station, WDHA in NJ, to allow him to produce a hard rock/heavy metal specialty show – one of the first of it's kind. That show continues to this day under the banner of Eddie Trunk Rocks (also labeled Friday Night Rocks in NYC). Eddie Trunk Rocks originates out of New York City, the number one radio market, on Q104.3 and is syndicated nationally and heard on more than 15 stations including other top 10 markets including WAAF in Boston.
| | |
| --- | --- |
| Media Partners | |
About the Venue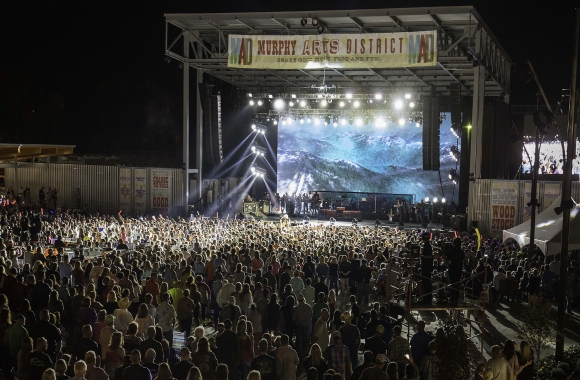 105 East Locust Street El Dorado, Arkansas
| 870-444-3007
The outdoor Murphy Arts District Amphitheater will play host to outdoor films, concerts, music festivals, and a seasonal farmers market in El Dorado, Arkansas. The spacious lawn is open daily and can be used for multiple activities including family picnics or basking in the sun with your favorite book. The Amphitheater will be a unique venue in El Dorado that everyone has access to and will be an ideal location for festival events.  Learn More