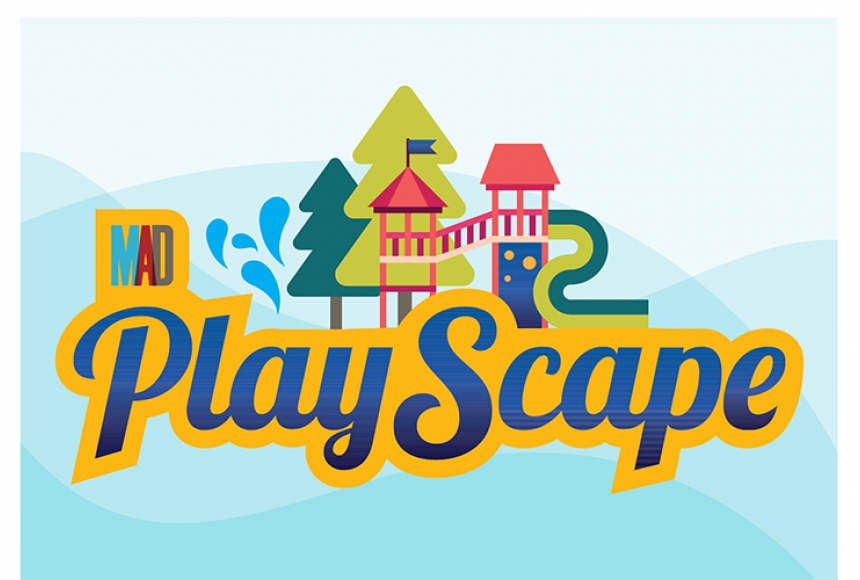 Be a Member, Be here.
Become a Member to enjoy ticket discounts, presale access, Member-Only events & more!
Murphy Arts District (MAD) announced the grand opening on Saturday, May 19th at 8:20 AM of the MAD Playscape, located on Hill Street between Pony Street and East Cedar Street, next to the First United Methodist Church, and adjacent to the MAD Amphitheater. The opening culminates more than 4 years of planning and completes Phase One of the Murphy Arts District project in downtown El Dorado. It will be open seven days a week and is free. It is also the largest children's destination outdoor playscape in Arkansas.
The Playscape contains two-acres of state of the art playground equipment selected for the evolving play styles of different ages.  Children can enjoy slides, ropes, tunnels, ladders, a giant razorback slide, and a zip line. Additionally, there will be a large splash pad with water cascading from imitation pine trees and an oil derrick as well as from water jets set in the ground.
"We are excited about the Playscape," said Austin Barrow, President of Murphy Arts District, "and have been looking forward to this opening since we first laid out the blueprints. The goal from the beginning has been to create something that all the families of greater El Dorado and the surrounding region could enjoy. My own kids can't wait."
The Playscape is securely fenced and has a single entrance, allowing children to play freely and in a safe environment. Other features include a building with changing rooms and bathrooms and a concession area. Items for sale will include refreshments such as snow cones, ice cream, drinks, cotton candy and healthy snack options as well as sunscreen and towels.
The play equipment has been designed for children's safety and is compliant with ADA, ASTM, CPSC standards as well as IPEMA certified. Miracle Recreation, the equipment manufacturer, has focused on innovation, imagination, and safety in the playground for over 90 years.
Some facts about the Playscape
- Free
- Open seven days a week
- Hours are 8:00 AM to sunset. Concessions are open 11:00 AM to 5:00 PM, Concessions will be closed on Sundays.
- The splash pad will be open through the summer months, weather permitting
- No supervision provided. Parental supervision required. Play at your own risk
- Birthday parties and rentals will be available. Contact MAD's Hosted Events staff.
- Water diapers required for infants
Not allowed
- No pets
- No weapons (guns and knives)
- No outside food or drink
- No smoking
- No bullying
- No outside chairs or coolers
- No skateboards, scooters or bicycles
View MAD Playscape FAQ's HERE!
Visitors coming to the Playscape's grand opening will also be able to experience the Farmers Market at MAD which takes place in the covered pavilions at the MAD Amphitheater, directly across the street from the Playscape. The Farmers Market at MAD will be open every Wednesday and Saturday morning from 8-12 from May through October. It will bring together farmers from the previous stadium parking lot sales venue and farmers from around El Dorado, as well as bringing new vendors from outside of Union County. Customers can expect a variety goods including produce, meat, herbs, bedding plants, baked goods, jams and jellies, canned products, homemade items, local honey, and more. The new market is a 'producer-only' market, consisting only of goods that are grown, raised, or made by participating vendors who are within the region.
About the Venue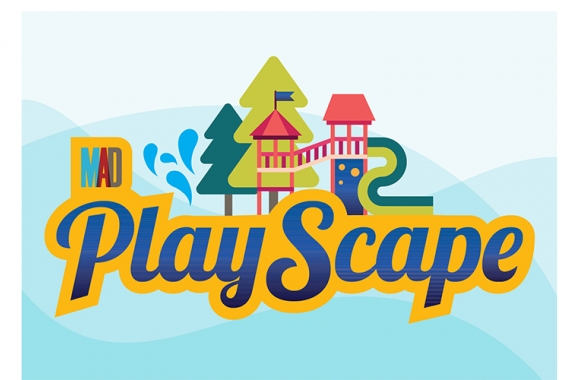 301 South Hill Street El Dorado, Arkansas
| 870-444-3007
The MAD Playscape contains two-acres of state of the art playground equipment selected for the evolving play styles of different ages. Children can enjoy slides, ropes, tunnels, ladders, a giant razorback slides, a zip line, and splash pad. There is no charge to play at our MAD Playscape!   Click HERE for a list of FAQ's. Learn More