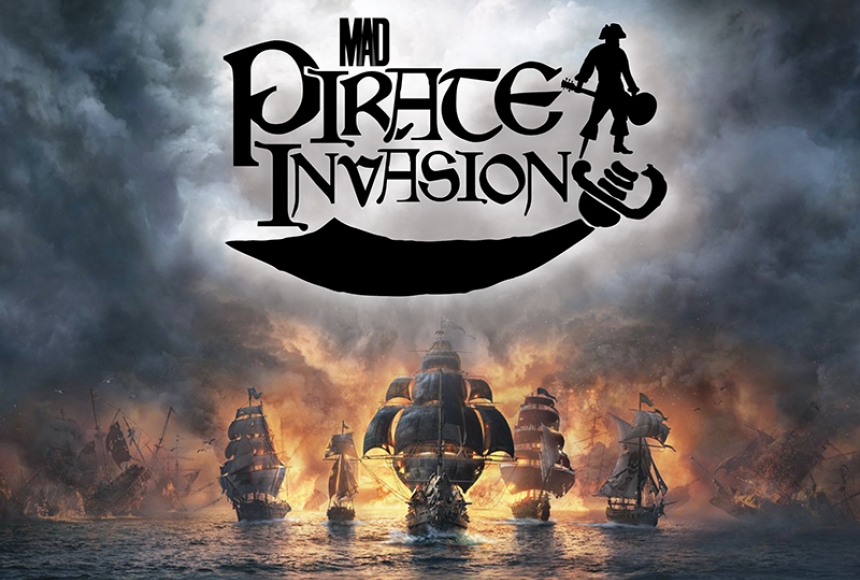 Be a Member, Be here.
Become a Member to enjoy ticket discounts, presale access, Member-Only events & more!
The pirates are coming to MAD! 
Avast ye Pirates and Landlubbers alike:

Set ye destination for the Murphy art District in El Dorado, Arkansas for July 21st. Don your best pirate garb and join us for some chanteys! We have seven bands traveling from near and far for ye listening pleasure! The place be air conditioned and well stocked with grog. In the hours of 2PM and 11PM we will all be hearties and have a jolly time!
$35 - Adults/ $45 Day of show
$20 - Kids (12 & under) Must pay at the box office.
*No weapons or replicas. Strong language may be used after 7:30PM.
Plan your stay! 
Mention: MAD Pirate Invasion GUESTS at the following hotels and receive a special rate.
Candlewood Suites: 13 single queens, 15 double queens at the rate of $109.00 and 2 king suites at the rate of $130.00. The cut off date to reserve the rooms will be July 9th at 12AM. 
Hampton Inn: 15 single queens and 15 double queen reserved at the rate of $109.00 
The special rate is available for July 21st night or the 20 and 21 combo.
A MAD pirate trolley will be provided back and forth from the two above hotels to venue!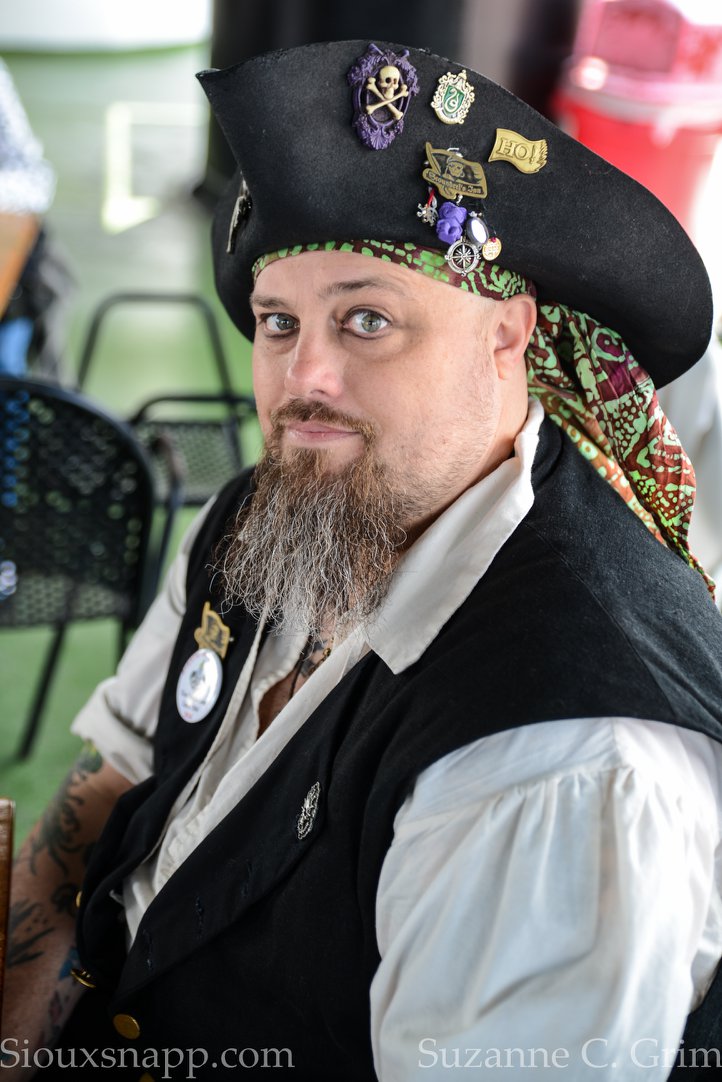 Captain Jack Gonzo will be our emcee for this event. Gonzo is the host of the popular pirate podcast "Scoundrel's Inn." Scoundrel's Inn is a haven for those who yearn for the high seas, a bottle of rum, and the golden age of pyracy. Every Wednesday night from 9pm-11pm central Scoundrel's Inn broadcasts with the goal to help promote and expose people to pirate music from all over the world. The show is listened to all over the planet helping unite various krewes together in the common bond of music.
From 2PM - 11PM there will be performances by the following bands:
The Blaggards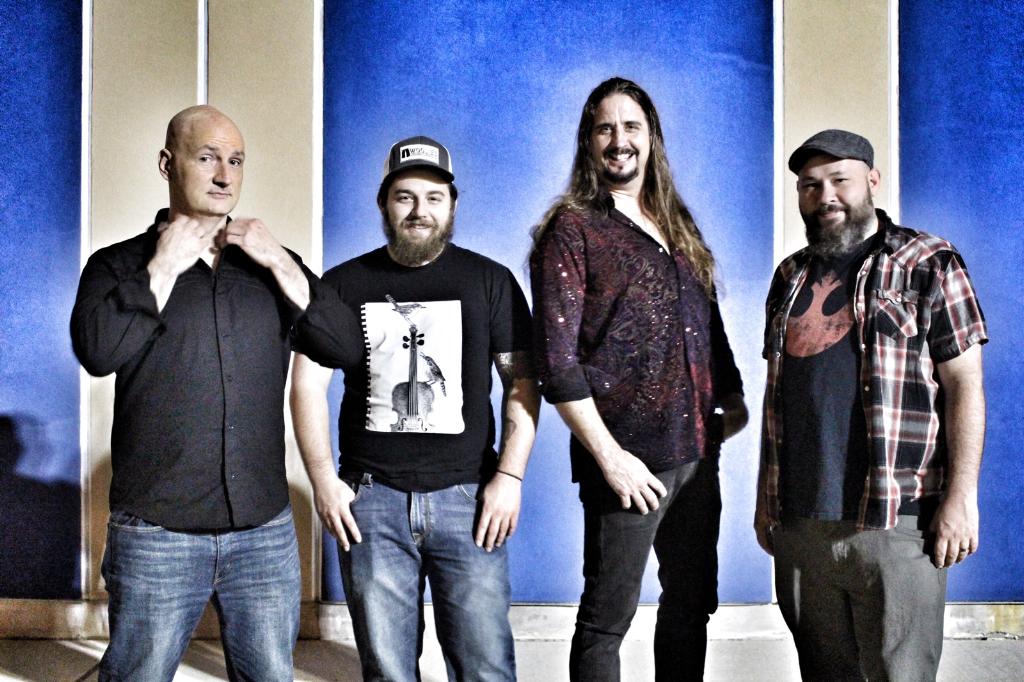 (no "the", pronounced BLA' GUARDS or BLA' GH-ERDS, depending on where you're from) formed July 2004 in Houston, Texas. We play what we call Stout Irish Rock, traditional Irish music mixed with rock n' roll, informed by everything from Johnny Cash and Elvis Presley to Thin Lizzy and Black Sabbath. We are most frequently compared to bands like Flogging Molly, Dropkick Murphys, and the Pogues. Blaggards are lead vocalist and guitarist Patrick Devlin (from Dublin, Ireland, bassist/vocalist Chad Smalley and drummer Michael McAloon. We maintain a rigorous schedule, playing constantly throughout Texas and touring nationally several times a year, plus an annual tour of Ireland. "Drunken Sailor" and "Big Strong Man" from our frst CD, Standards, were both featured in episode 86 of the CBS series The Good Wife, aired on March 24, 2013. "Big Strong Man" also appears in the British film The Kid, directed by Nick Moran and based on the best-selling book by Kevin Lewis.
Bounding Main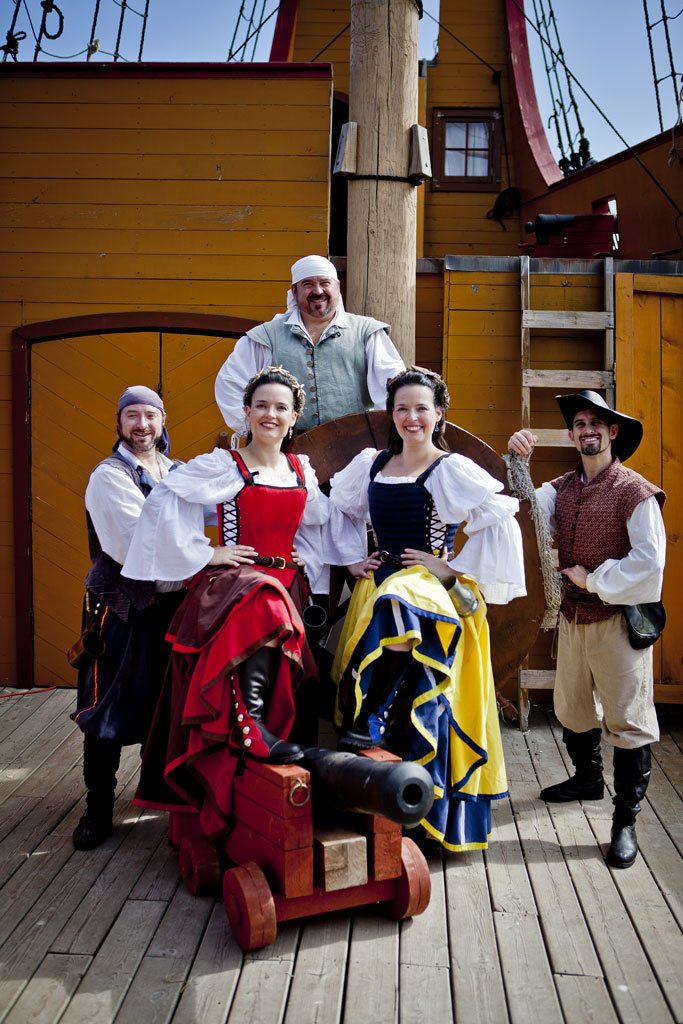 Bounding Main is a vocal group that sings richly harmonic versions of traditional maritime songs. Their shows are filled with spirit, humor and harmony and their arrangements of traditional nautical music bring the listener into the world of fellowship, adventure and romance. The group, founded in 2003, has performed all ofver the U.S. and Europe and their music is sold internationally through Apple iTunes, Amazon.com, CDBaby and other music portals. 
Tom Mason and the Blue Buccaneers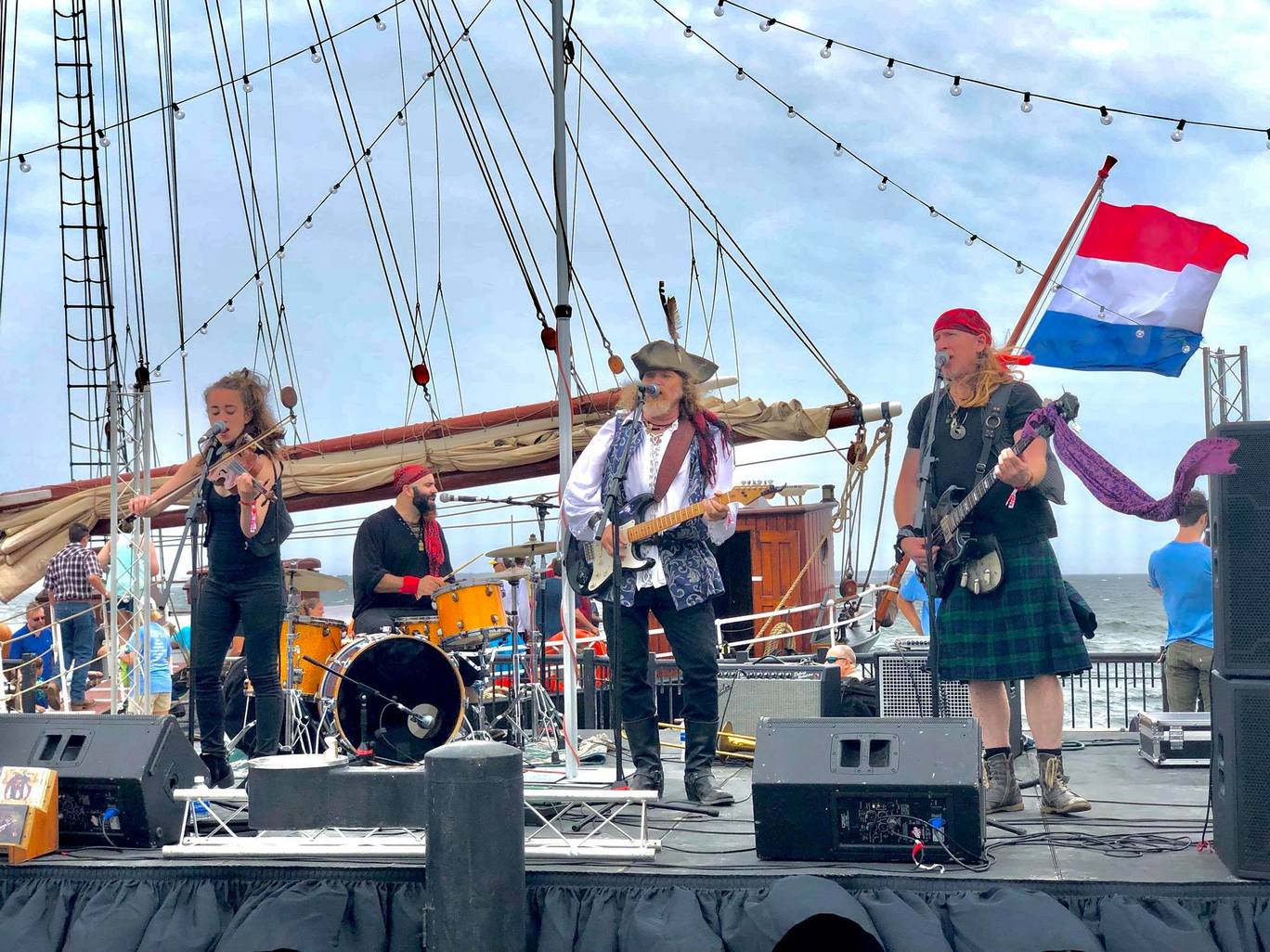 Tom Mason and the Blue Buccaneers is a wild band of Nashville musicians who dress like pirates and play  a rollicking mix of piratical sing-alongs, rousing historical rave-ups, afro-cuban tinged ballads, Cajun sea shanties, and bluesy Irish jigs, celebrating the days when the seas were ruled by great sailing ships. We have played Tall Ships festivals in Bergenand Fredrikstad Norway,  music festivals in Australia, England, and the United States, and pirate festivals the world around. We offer family-friendly entertainment, sometimes playing a family stage early and a late night set for adults. In September of 2016 we released our fourth CD, "Pirate Party". Pyrates Way Magazine has given their CD "Pirate Party" a rave review, calling them the "pirate Beatles."  Download Link:  http://pyratesway.com/035.html  bottom right corner, click "download electronic version" and the download will begin.
Bilge Pumps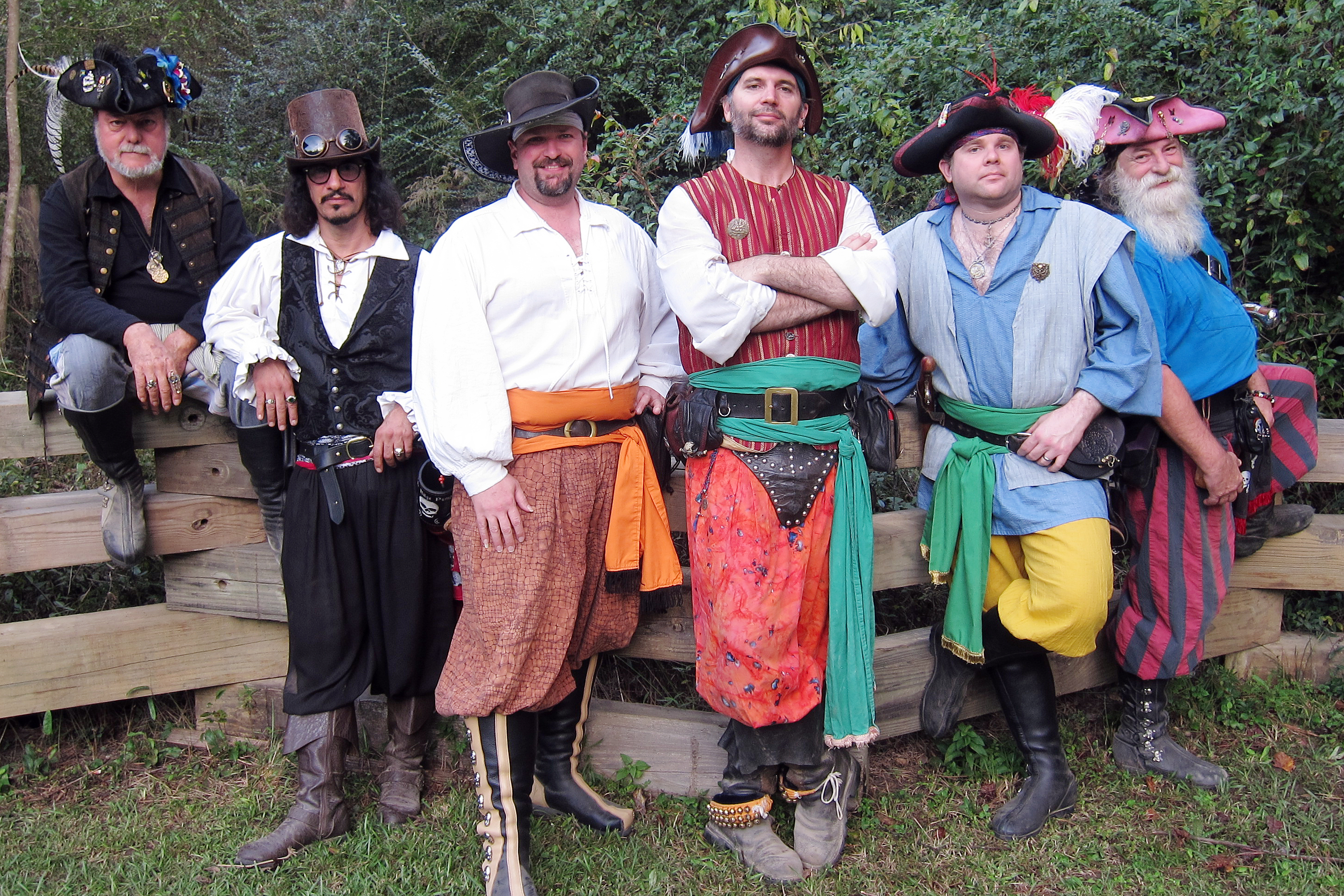 The Bilge Pumps are a pirate music group based in the Dallas/Ft. Worth area who specialize in performances that combine nautical songs, sea shanties, and Celtic music with a huge (and we mean huge!) dose of silly comedy. The group performs larger than life in their authentic-feeling pirate-themed costumes and their variety of instruments backing up their bellowing voices. 
These pirates have been in demand all over the country for their entertainingly goofy stage antics, their well blended voices, and their musical skill as they take everyone's favorite nautical and Celtic music and put their own particular spin on each one. Their show is crafted to pull each audience member in, encourage them to play along with their high-energy shenanigans, and have them leave with a smile on their face and a story to tell their friends.
Master Bone Jangles and the Voodoo Island Cannibals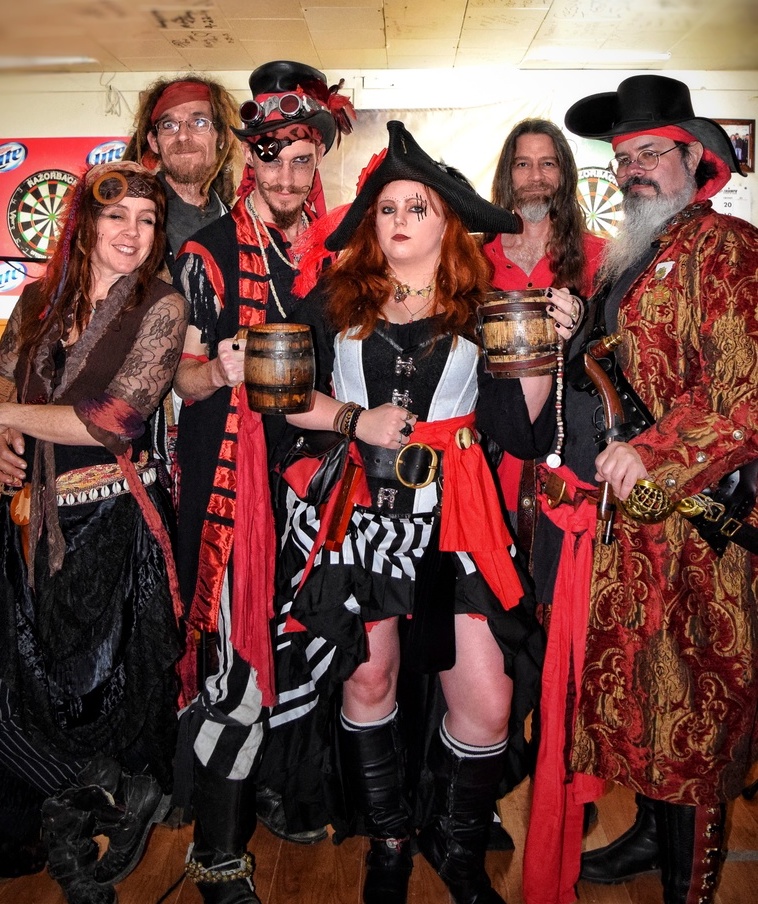 Master "Bones" Jangle was found stranded, stark naked and painted like a skeleton on a lonely beach at the bottom of a cliff off the coast of Africa by a crew of pirates. "Bones" is a Shantyman by trade, however the position of Surgeon was the only one available so he accepted and took on his new duties with incredible enthusiasm and although the ship occasionally ran low on crew members there never seemed to be a shortage of meat. From his travels in Africa, of which he speaks elusively, "Bones" claims to have been trained in the arts of Voodoo, Shamanism and Witchdoctoring and has developed several recipes for meat that will leave one drooling and begging for more. Although he often sails with other pirate crews "Bones" has many private ventures and spends his time pursuing his own interests. After many run-ins with the authorities while on his own in several countries "Bones" sought respite on a solitary and unapproachable island with submerged rocks and reef surrounding it making it near impossible to reach. "Bones"  purchased the island from another man and dubbed it Voodoo Island. When he arrived at Voodoo Island he was greeted by the natives who immediately deferred to him as their leader. Isolated from the world Master "Bones"  Jangle began to develop his own sound, and now he travels through different dimensions using his unique brand of sorcery living the life of a pirate and singing about it!
Whiskey Bay Rovers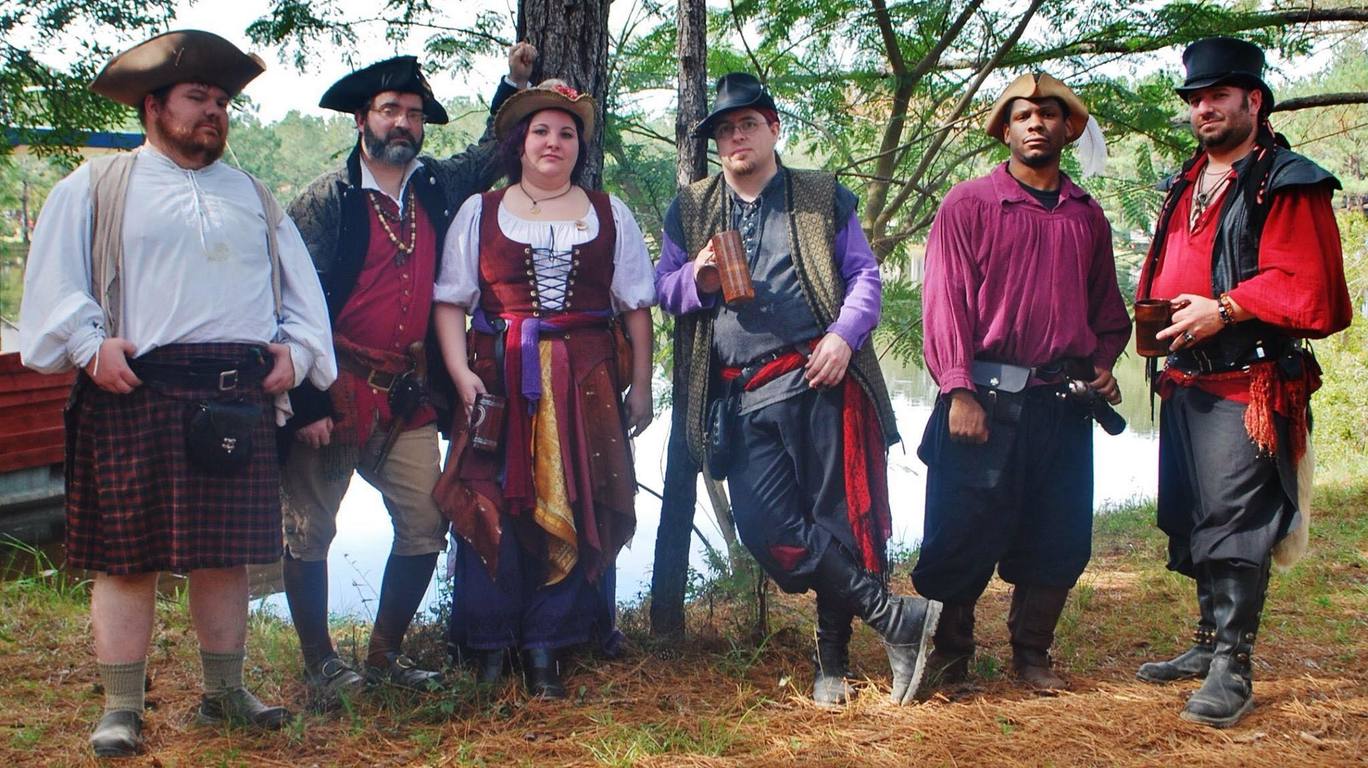 The Whiskey Bay Rovers, hailing from Lafayette, are Louisiana's premiere pirate band and can be seen annually at the Louisiana Renaissance Festival, Celtic Bayou Festival, NOLA Pyrate Week, and other events across the Gulf South. Since 2010, the Rovers have been specializing in drinking songs, sea chanteys, ballads, and pub songs, and bringing their mixed musical backgrounds to the stage in an effort to preserve the songs of a bygone era, bringing new ones to life as well as often putting a new spin on the old ones. Employing many a cappella arrangements with up to six part harmonies while using instrumental accompaniment of guitar, penny whistles, drums, and fiddle on others, the Whiskey Bay Rovers provide a variety of song styles to quench your thirst for the sea. Besides, drinking too much salt water is bad for you anyway. 
The Rum Fellows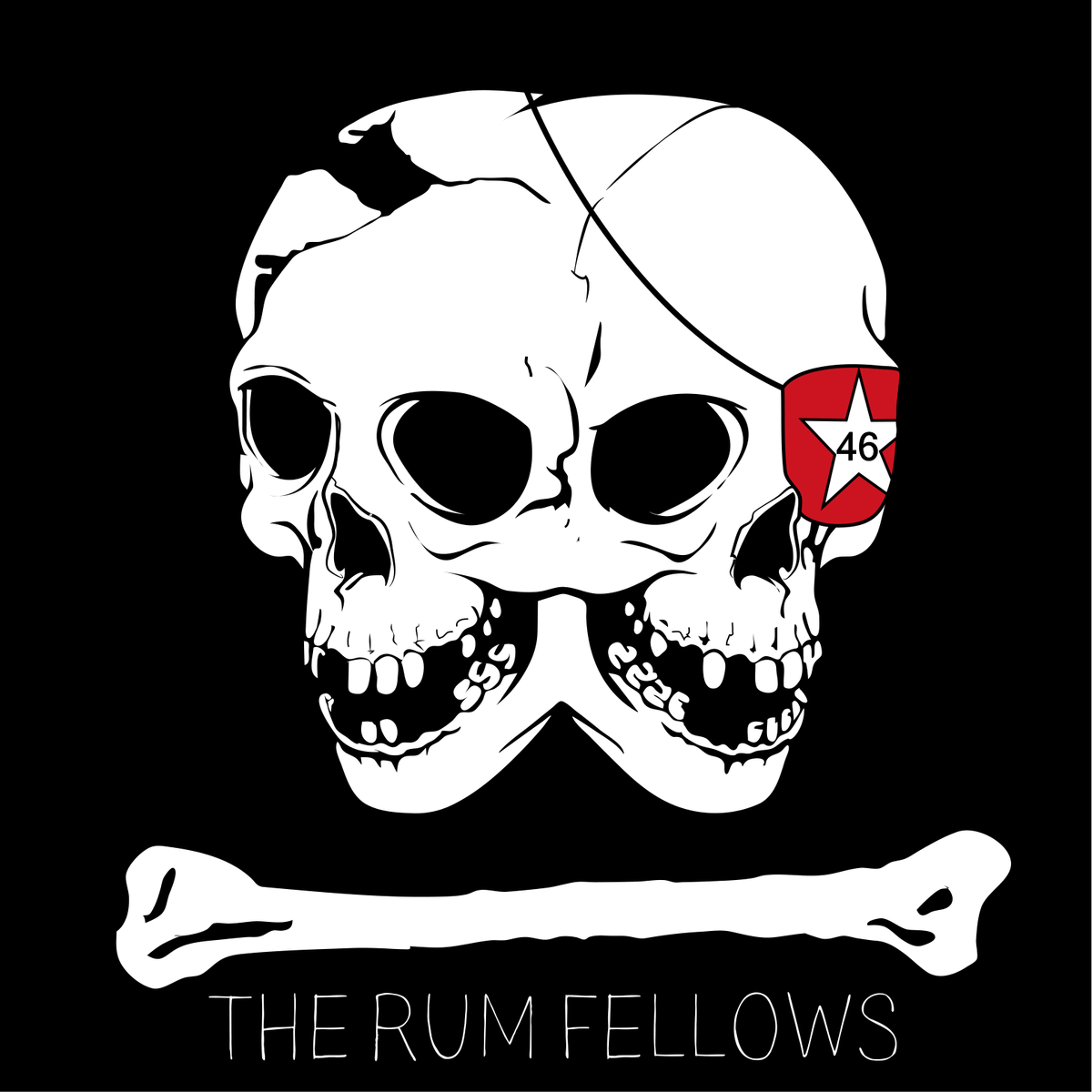 The Rum Fellows are an "Okie Pirate" band. They have been entertaining fellow maritime okies in and around Norman since the springof 2007. They are a fixture in the Norman and Oklahoma City Music Scene. A Rum Fellows performance is like no other experience in Oklahoma. Our repertoire consists of original pirate music, traditional sea chanties, folk songs, celtic tunes, celtic punk, drinking songs, and "old time" acoustic music. They have performed at the Norman Music Festival, Norman, Oklahoma Medieval Fair, Stillwater Halloween Street Festival, as well as Many Taverns of Norman and beyond.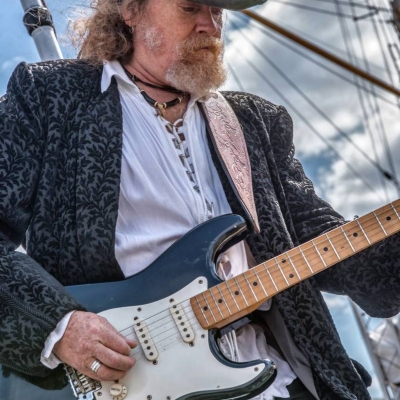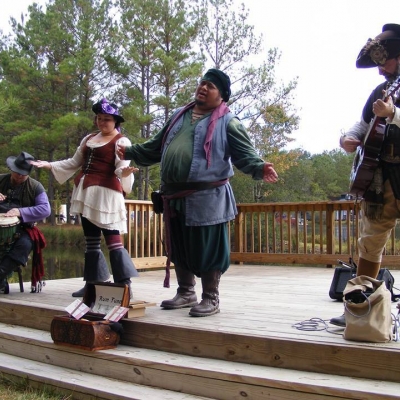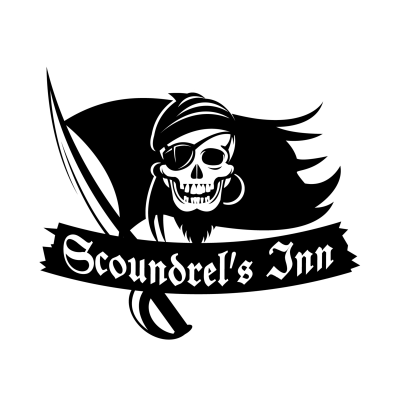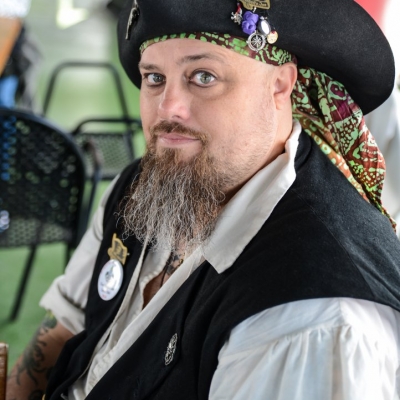 About the Venue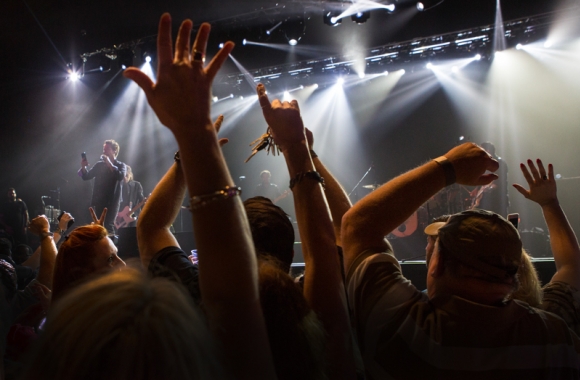 101 East Locust Street El Dorado , Arkansas
| 870-863-4547
The Griffin Music Hall will host multiple monthly concerts and has flexible seating that allows for a diverse mix of concerts and entertainment in El Dorado, Arkansas. With room for more than 2,000 seats, the Griffin Music Hall will be a venue hot spot for weddings, conventions, banquets, concerts and more, in Southern Arkansas. The Griffin Music Hall is a tobacco free facility. Learn More